BinIt's Bringing Data-driven Decision Making to Waste Management
Raghav Mecheri, CEO of BinIt, sat down with Neeraj Hablani, Partner at Neotribe and a member of BinIt's Board of Directors.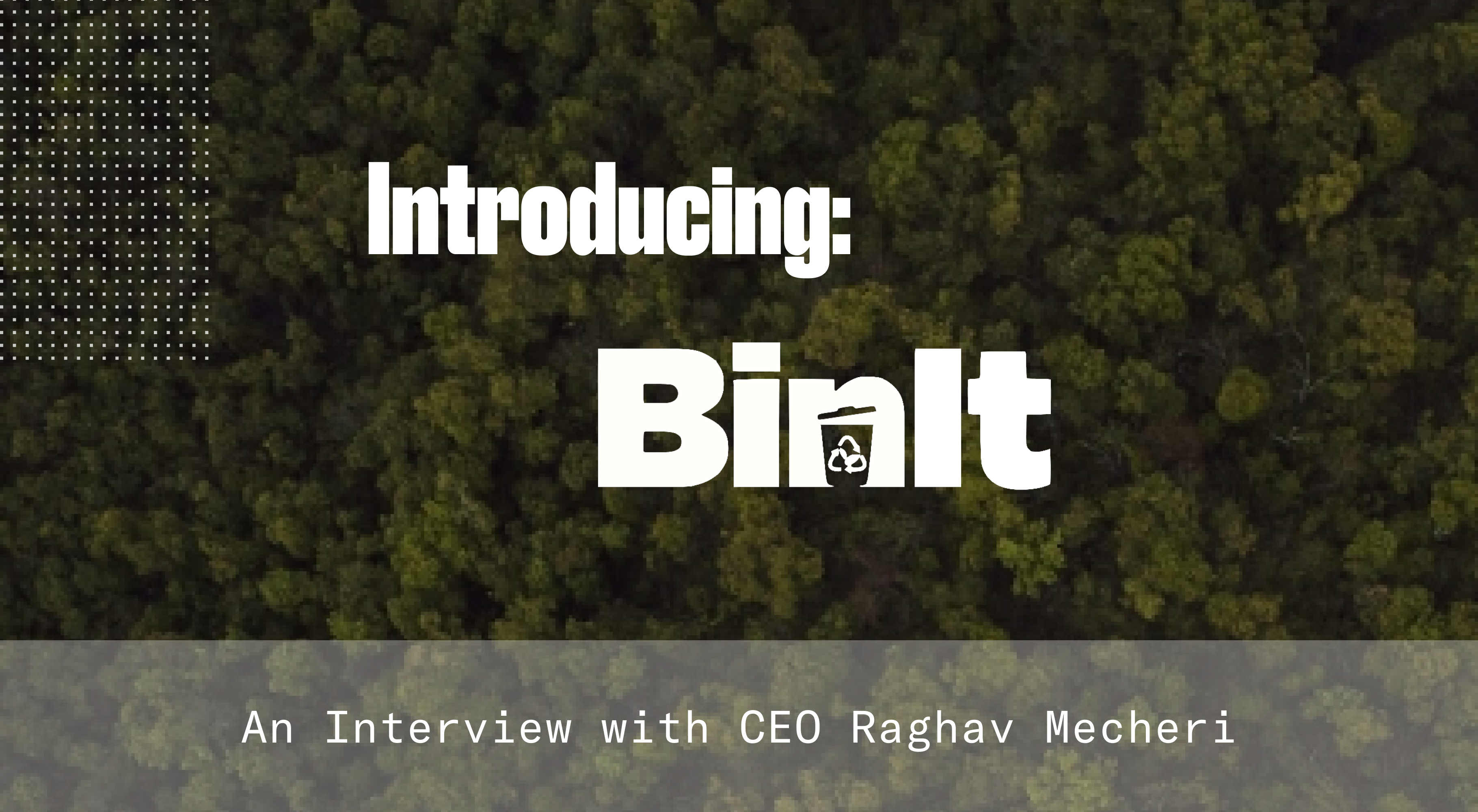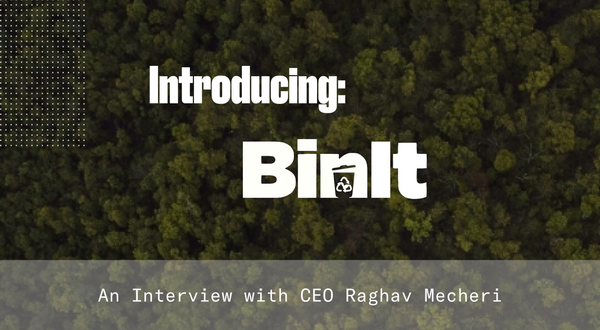 BinIt's goal is to bring data to the forefront of recycling facilities. In an effort to supercharge this vision, BinIt recently closed a pre-seed round led by Neotribe Ventures. Neotribe is an early-stage venture capital firm that invests in breakthrough technologies that stretch the imagination.
Raghav Mecheri, CEO of BinIt, sat down with Neeraj Hablani, Partner at Neotribe and a member of BinIt's Board of Directors. Below is an excerpt from their discussion.
BinIt is hiring across sales, product, and engineering! If you enjoy working with some of the best and brightest on challenging problems that can make a global impact, we're the place for you. Read more here.

Neeraj Hablani: Raghav, it's great to sit down and chat with you. Thanks for taking the time to share your story. Tell us about your background and what motivated you to start BinIt.
Raghav Mecheri: The pleasure is mine, Neeraj. Thanks for having me! I'm a grad from Columbia University where I studied Computer Science and Applied Math. I'm a big believer in technology's ability to solve the world's biggest problems – I'm also someone who grew up in a family of entrepreneurs and the opportunity to work on helping solve a problem at this scale inspires me like nothing else does.

NH: Most people don't think much about trash after they throw it in the bin. Walk us through what happens after waste gets picked up from outside our homes.
RM: The recycling supply chain is a multi-stage process. Waste is picked up from outside homes and office spaces by haulers. All of this material is then carried to large industrial sorting facilities, commonly referred to as Material Recovery Facilities – a MRF's job is to segregate mixed recycled materials into various categories by material. These segregated materials are then resold, and the remnants are sent to landfills. Helping these facilities segregate waste more effectively not only allows them to boost their bottom lines, but also reduces the volume of waste that ends up in landfills.

NH: Thanks for the context. How does someone who studied CS and Math end up getting interested in and pursuing a career in the waste management industry?
RM: Not the most typical path, is it? The majority of my coursework at Columbia involved machine learning and after building my first image classification system, I knew that ML was what I would specialize in. My foray into waste management was far more incidental – driven by our founding team's initial interest in building self-sorting robotic trash cans to try and address waste segregation at the source. We began to obsess over using technology to try and solve large-scale urban problems. Our appreciation for recycling only grew as we learned how marginal improvements to the waste segregation process could lead to significant revenue gains for all the stakeholders involved while also helping protect our planet. The rest, as they say, is history.

NH: At Neotribe, we appreciate founders who are working on projects aimed at making a meaningful global contribution – BinIt undoubtedly meets that objective. Is this how you look at the opportunity ahead?
RM: Recycling is unique because of the sheer quantum of impact we can have. Incremental improvements and changes to the recycling industry have the opportunity to push the world forward. The opportunity to use software and machine learning to facilitate this at a time when we're seeing an increased emphasis on understanding performance, safety and reliability at industrial recycling facilities only makes this all the more exciting.

NH: Most people don't appreciate that the waste management space is a highly complex industry which moves tons of material in an orchestrated fashion. Talk us through the scale of the problem at hand.
RM: The world is generating an exponentially growing amount of waste. The World Bank estimates we're going to generate over 3 billion tons of waste by 2050. The complex nature of recycling and waste segregation only makes this problem more nuanced – Greenpeace, for example, estimates that over 90% of the plastic produced has never been recycled. As the demands on the recycling industry continue to increase, innovative solutions are becoming the need of the hour. That's where we come in – BinIt is using a unique blend of state-of-the-art computer vision technology and industry expertise to help propel the $1.6T+ recycling industry into the digital age.

NH: Those are astounding figures – a large market with an opportunity for impact given a vast majority of materials are not recovered. Clearly, providing data to empower better decision making is an unmet need. When you look ahead, what goals do you aim to achieve in this next phase of the company?
RM: Our goal is to make operational data accessible and available across every stakeholder in the waste management cycle: be it a landfill owner, recycling company, a waste hauler, or the consumer that originally threw the item away. To start off, we're focussed on helping industrial recycling facilities gain access to data that can help them sort waste better, operate with a higher degree of safety, and improve their bottom lines.

NH: And for your customers? What outcomes do you aim to drive for them?
RM: At its core, BinIt's vision has always been to help stakeholders in waste management make high-quality, data-driven decisions which lead to real operational improvements. Today, we focus on driving three core outcomes to our end-clients. First, eliminating the possibility of hazardous items like propane and acetylene tanks entering the Material Recovery Facility (MRF) ecosystem – these items cause explosions when processed, making it important for us to flag and remove them. Second, bringing transparency to the bale and quality auditing process – today, MRFs audit the bales they produce by manually breaking them open, which results in an incredible amount of overhead. Finally, helping MRFs make operational decisions and improvements based on information on their quality of waste segregation – our platform helps clients not only obtain a granular understanding of their processing stream but also empowers them to optimize their sorting processes

NH: A big part of driving these outcomes is putting together the right team to make them happen. What are some of your core organizational values and what makes the team at BinIt unique?
RM: I'm grateful to have spent time as a part of some incredible workforces – if there's anything I learned, it's the importance of empowering the people around you. All of us at BinIt are big believers in the potential technology has to drive positive change, and our team is an essential part of our attempt at catalyzing this transformation. Being customer-centric is equally integral, especially in an industry where customers are just beginning to witness the extent of the impact technology can have. This is why one of the first things that a new member of the BinIt family does is accompany us on a visit to a recycling facility – there's nothing more powerful than a granular understanding of what our clients' needs and pain points are. I'd be remiss if I didn't mention our work policy: BinIt's team is 100% remote. We're massive proponents of remote and asynchronous work and I think the fact that we conducted this entire interview asynchronously is a testament to that.

NH: Thanks, Raghav. Appreciate your thoughtfulness and candor. We can't wait to see BinIt grow and impact our global community.
RM: Of course! All of us here at BinIt are extremely excited by the traction we've seen thus far, and can't wait to see what the next few years bring. Before we wrap up though, I do want to give our entire team a massive shoutout. The pace we've moved at over the last year has been incredible, and that's entirely thanks to the ridiculously talented people that we're fortunate to count as a part of the BinIt family. I've always considered the opportunity to build a product and organization from the ground up to be the ultimate privilege – working with these folks however, may just one-up that.
---
This article was co-published alongside BinIt and can be viewed here.